About hip pain
Your joints are involved in almost every activity you do. Simple movements such as walking, bending, and turning require the use of your hip and knee joints. Normally, all parts of these work together and each joint moves easily and without pain. But when a joint becomes diseased or injured, the resulting pain can severely limit your ability to move and work.
The hip is one of the main weight-bearing joints in your body. It consists of 2 main parts:
+ A ball (femoral head) at the top of your thighbone (femur)
+ A rounded socket (acetabulum) in your pelvis
A healthy hip allows pain free movement since joints are connected by cartilage which cushions the bone and provides easy movement of the joints.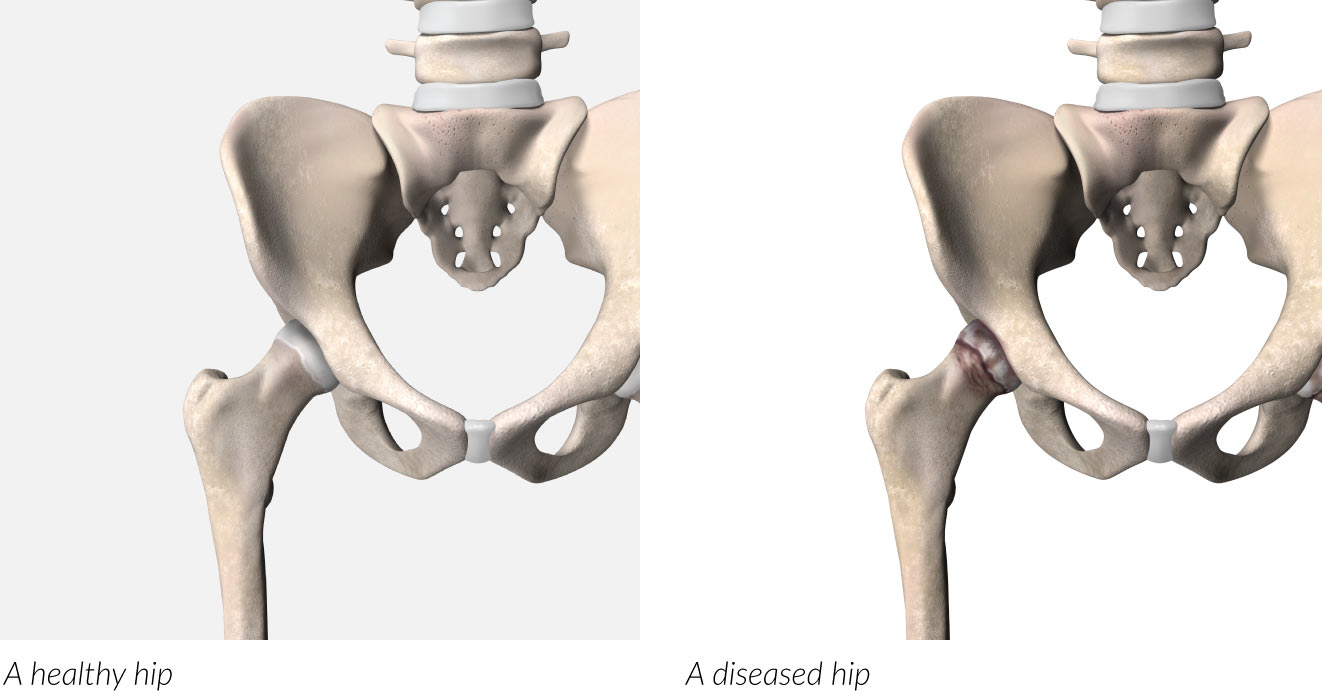 Causes of hip pain

Hip pain is sometimes caused by deformity or injury, but one of the most common causes is osteoarthritis (OA), also known as degenerative joint disease1. In a joint that has been damaged by arthritis the cartilage becomes inflamed and wears down, causing bone to rub against bare bone, creating pain, stiffness, deformity and loss of mobility. And since it's a degenerative disease, it just gets worse over time. Other common causes of joint pain include rheumatoid arthritis or post-traumatic arthritis1.

Other causes of hip pain

This section explores several other causes of hip pain, there may however, be reasons not included here, which can cause hip pain. Please consult your health care professional to determine the exact cause of your specific pain.

Rheumatoid arthritis

Rheumatoid arthritis (RA) is an autoimmune disease that causes pain and swelling of the joints. This can become very painful and causes swelling and stiffness that may eventually damage the joint's cartilage and bone, and weaken the soft tissue around the joint, preventing the joint from working properly4.

For more information about rheumatoid arthritis please visit https://arthritisaustralia.com.au/types-of-arthritis/rheumatoid-arthritis/

Post-Traumatic Arthritis

Post-traumatic arthritis can develop if, after an injury to the joint, the bone and cartilage don't heal properly. When this happens, the joint is no longer smooth, which can lead to extra wear on the joint. Post-traumatic arthritis often follows serious injury to the hip, or repeated high impact or force to the joint. Injury to a joint, such as a bad sprain or fracture, can also cause damage to the articular cartilage. Once this cartilage is damaged, it doesn't normally grow back. Instead, scar tissue replaces it, which doesn't protect or cushion the bones in the joint as effectively.

Post-traumatic arthritis is treated in a similar way to osteoarthritis3.

Always discuss your treatment options with your doctor.